Czech Hockey Games i Göteborg och Brno, Tjeckien 4–7 maj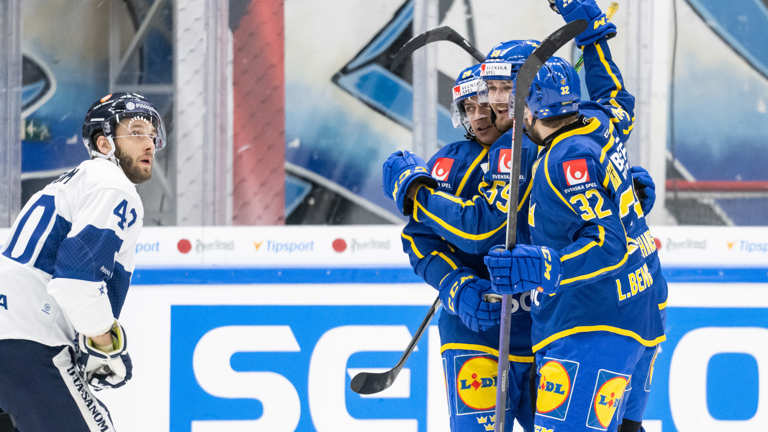 ndré Petersson, Linus Johansson and Lukas Bengtsson of Sweden celebrate after scoring 1-0 during the Czech Hockey Games game between Sweden and Finland on May 7, 2023 in Brno.
Tre Kronor spelar Czech Hockey Games i Göteborg och Brno, Tjeckien 4–7 maj
Sam Hallam, förbundskapten för Tre Kronor, har tagit ut truppen som ska möta Schweiz, Tjeckien och Finland i Czech Hockey Games 4–7 maj.
– Truppen spetsas till ytterligare med spelare från NHL och från finallagen i SHL, så nu börjar det likna den VM-trupp som vi kommer att åka med till Tammerfors. Vi ser fram emot att visa upp oss på hemmaplan i Scandinavium på torsdag mot Schweiz. Det blir nyttiga dagar i Göteborg, då vi kan lära känna varandra vid sidan av isen, och även jobba med grunderna i spelet med tanke på att det är flera nya som kommer in. Den här veckan blir ett bra test inför VM med tufft motstånd och back-to-back-matcher i helgen, säger Tre Kronors förbundskapten Sam Hallam.
Veckan som gått har Tre Kronor varit i Umeå och spelat två matcher mot Finland i ett nästintill fullsatt Winpos Arena. Första matchen vann Finland med 2–1, och den andra vann Tre Kronor med 6–2.
– Vi fick hårt motstånd av Finland. Första matchen saknade vi rätta lagtänket och lugnet, men det blev mycket bättre i match två, då vi även fick utdelning offensivt. Vi fick en stor boost av publikstödet, det var inspirerande att se så mycket folk i Winpos, summerar Sam Hallam.
LÄNK: Skaffa biljett till Tre Kronor-Schweiz i Scandinavium 4 maj
Truppen
Ändringar i truppen: Jesper Wallstedt, Minnesota Wild ersätter Jacob Johansson
Dagsprogram
SWE Schedule Czech Hockey Games
Matcherna
| | | | | | |
| --- | --- | --- | --- | --- | --- |
| Datum | Tid | Hemmalag | Bortalag | Arena | Stats |
| 4 maj | 19:00 | Sverige | Schweiz | Scandinavium, Göteborg | 3-0 |
| 6 maj | 16:00 | Tjeckien | Sverige | Winning Group Arena, Brno | 4-3 |
| 7 maj | 12:00 | Sverige | Finland | Winning Group Arena, Brno | 4-3 OT |
SVT sänder